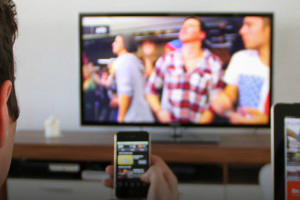 1

The media sphere has been in constant evolution for many years and 2015 was no exception. Fruit of the convergence of TV and digital media, traditional consumer habits are broken down and reborn from one day to the next. We talk about a fragmented media landscape, but it would be more accurate to describe it as ultra-connected. Audiences access content when and wherever they want from a diverse range of platforms and devices, while publishers and marketers are having to adapt rapidly to the new reality.

The North American media and audience measurement company ComScore has recently published the report '2016 U.S. Cross-Platform Future in Focus' which provides an in-depth analysis of the new digital media consumer realities in the United States with figures that offer a clear picture of what is to come. Below, we outline some of the most relevant conclusions:
1. 2016 IS CROSS-PLATFORM
In recent years we have seen a convergence between computers and mobile devices in a unified digital environment: the reality of cross-platform or multiscreen consumerism. The next stage in this media convergence is the all-out collision between TV and digital, with the consumption of audiovisual content eminently online and increasingly mobile.
2. SMARTPHONES AS A MAIN SCREEN
As a means to access content, smartphones already exceed 50% of all other tools and will soon become the main access channel to digital media. Currently, two-thirds of time spent looking at digital content is already on mobile devices and almost half on applications for smartphones alone. The age ranges give us an insight into this evolution. The 35-55-year-old bracket is the age range with the highest cross-platform usage, combining TV and mobile devices. A quarter of over-55s, however,  do not access content from their mobiles, while 20% of millennials no longer use a computer at all.
3. MORE ACCURATE MEASUREMENTS
Although the consumption of content will surely continue to rise, there will come a time when audience growth will slow. This is why efforts should be centred around strengthening engagement and paying closer attention to analytics. The focus should be on measuring interaction, such as time invested and meaningful visits. A more refined product will certainly need to be offered in which quality is valued over quantity.
4. ADVERTISING ADAPTED TO THE MOBILE ENVIRONMENT
Investment in advertising on mobile devices will increase and, therefore, the tools and measurement systems designed for computers will have to be adapted to the new reality. Advertisers will have to reach the right consumers by increasing measurement accuracy. Some major players in the traditional printed media are already making significant profits thanks to their fast and intelligent adaptation to the mobile environment. Digital media is fast becoming the biggest and best of all advertising platforms, despite the challenges of visibility, bot traffic and ad-blockers.
5. VIDEO IS SOCIAL
Social media activity and consumption of online content will be increasingly focused on video content. Although Facebook still reigns supreme, younger users are turning Snapchat into the next major social network. Facebook and Instagram have stepped up their efforts in optimizing video format and more recently we have seen Twitter's Periscope come onto the market. There is an increasing awareness of the power of social resonance, and video is its major asset
6. PUBLISHING THROUGH THIRD-PARTY PLATFORMS
Publishers will turn to platforms like Facebook Instant, Snapchat Discover and Apple News to publish content directly, since these offer greater technological, analytic and revenue optimization as compared with their own platforms. Communications media will continue to concentrate efforts on optimization in the coming months and years. The number of digital media and their audiences is in constant growth. Today in the US there are more than 200 media, each with an audience of more than 20 million monthly users. Accessibility through mobile devices has been a key factor in this increase in media and usage. All the big media companies are adapting with greater or lesser accuracy to the changes.
7. MORE ON-DEMAND CONSUMPTION
The TV landscape continues its delinearization with a steady increase in consumption of on-demand and mobile content. A transition is underway towards smaller screens. We are witnessing a move from the TV, until recently the "small screen", to mobile devices with increasingly bigger screens, and from the cinema to the TV thanks to the proliferation of pay-to-view platforms that also show new movie releases.
.
8. MORE OVER-THE-TOP CONTENT (OTT)
The increased availability of over-the-top content (OTT) will increase video consumption, rather than replace it. Linear TV consumption is decreasing but that does not imply a fall in the consumption of TV content. There is an opportunity here to seduce new audiences previously without access to cable television but who now have access to digital content.
9. ONLINE SHOPPING STILL ON THE RISE
E-commerce accounts for an average of 15% of spending per consumer. M-commerce is making a significant contribution to this growth and already accounts for 20% of digital consumption with a growth of 56% during 2015. This is made possible thanks to faster connections, lessening security concerns, bigger screens and e-commerce mobile applications.
10. CONTENT RECOMMENDATION WILL BE CRITICAL
Content curation is becoming a key area for innovation in technology and publishing. The vast amount of content available and its widespread diffusion will give content recommendation a pivotal role in the coming years. Whether from a digital social media or through relevance-based algorithms, users need content discovery and selection tools.
1