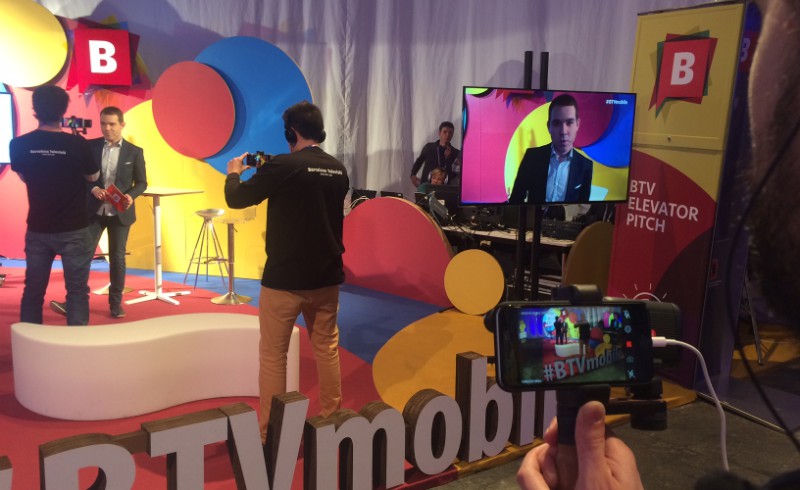 1

For the second year in a row, Barcelona Televisió (BTV) reported on both the Mobile World Congress (MWC) and 4YFN [4 Years From Now] exclusively using mobile technology. The idea was first proposed to me over a year ago by the President of Lavinia, Antoni Esteve. Nevertheless, with little time to prepare, it was carried out in record time, quickly enough even to provide coverage of the MWC 2015. While there had been cases prior to that where television broadcasts not only featured mobile connections, but also recorded and edited news with mobile technology, we are not aware that anyone had ever tried to deliver an entire live program in such a way.
The experiment not only stuck, but it grew steadily and, in 2016, it took a quantum leap. Although our main concern a year ago was to figure out whether such a feat was technically possible, this year we arrived at the MWC 2016 having done our homework. If last year's images were pixelated and choppy with unsynchronised audio, this year the signal was stable and the image quality was acceptable. While in 2015 our mobile program simply mirrored what we would have done in a more conventional format, by 2016 we understood that this medium deserved a different approach and a distinct rhythm.
In 2016 we understood that this medium deserved a different approach and a distinct rhythm
As for the recording and editing of video, #BTVMobile once again opted to go with the FiLMiC mobile filmmaking App, a new version of which was vastly better than the previous year's release.
Just like in 2015, this year we combined 4G and Wi-Fi to send and receive video and post it directly to the cloud.
Nevertheless, and despite those advances, this year's main novelty was in production. Doubts about connectivity in 2015 limited us to very basic use of Wirecast, the live video streaming production tool. This year, though, while we continued to employ Wirecast for general use, we also incorporated make.tv, the cloud-based video production software that makes it possible to simultaneously broadcast multiple live connections.
Among other new features in the latest edition is the ability to interact with the audience through live tweets. A special mention must go out to our friends at Shoulderpod, the Barcelona-based professional mobile equipment designers who lent us the smartphone rigs and tripods used by #BTVmobile's camera operators.
Uncharted waters are replete with discoveries waiting to be made
Although we were certain #BTVmobile would be successful, we refused to renounce spirit of experimentation which started it all. That's what innovation is — giving things a try while accepting that failure may happen along the way, but always doing so with the conviction that uncharted waters are replete with discoveries waiting to be made.
Part of our discovery consists of ideas and proposals contributed by the team of journalists that didn't see the moment as just another job, but rather as an opportunity to shine. For example, they have to be given credit for the successful incorporation of a Periscope connection parallel to the on-set presentation, as well as the audacity to dip a phone in a swimming pool to see whether it really offered coverage underwater, as some manufacturers claim.
We wanted to go a little further in 2016
True to that spirit, we wanted to go a little bit further in 2016. So, in addition to improving what we had already tested in 2015, we had to try something that had never done before. For the first time at BTV, we produced a news program in English. A team of five people, of which only two had English as their mother tongue, successfully passed this new test. Coverage included presentations, connections and interviews with personalities such as Mike Butcher (TechCrunch), Dirk Albhorn (Hyperloop transportation project) and the Deputy Mayor of Barcelona, Gerardo Pisarelo.
We would like to especially highlight our commitment to 4YFN, where we had our mobile set. In its third edition, 4YFN is the epitome of the prolific growth of ideas and creativity in the technology sector. Broadcasting from 4YFN —without ever turning our attention away from what was happening in the MWC — gave us more exposure as a result of what we put forward.
Of course, it's no secret the numbers generated by that type of coverage still pales in comparison to those from a conventional broadcast, but it's clear to us that one thing does not replace the other. They are merely complementary.
1